I got sent a Shake Weight to try, you see I'm on a health kick and had already gotten some Homedics Bathroom Scales and begun to lose weight, so seeing this I got sent a parcel and note saying "Shake Your Way to Summer Arms!"
Apparently it's the Miracle Fitness Gadget that tones arms in only 6 minutes a day!
So summer is upon us, which means it's time to come out from hiding and reveal what lies beneath my winter layers. The thought of short sleeves and even…eeek…strappy tops fills me with dread.... But now I hear there is no need to worry as the Shake Weight, especially designed for women, is the answer to my summer prayers!
The Shake Weight is a revolutionary new take on the dumbbell. The average dumbbell will build muscle in your arm but the Shake Weight is specifically designed to tone your arm as well as your upper body. The resistance movement creates up to 240 muscle contractions a minute which increases muscle activity by up to 300% ensuring you get a concentrated work out.
Due to the phenomenal increase in muscle activity, you only need to use your Shake Weight for six minutes a day. The new Dynamic Inertia technology enables the Shake Weight to move rapidly from side-to-side as the internal resistance and shaft bounce the weight back and forth.
Alex Gerrard is the new 'face' of Shake Weight according to the Daily Mail – also according to them, she giggled her way through the routine, as we did too.
Using the Shake Weight – feels well rather rude!! I'm saying no more, I'll allow you to find out for yourselves, suffice to say my other half walked into the room whilst I was completing the six minute DVD and exclaimed "Oooh baby!!" with us both collapsing in heaps of laughter!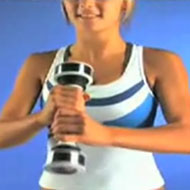 You too could get going and start to see visible results with toned arms that you will be proud to show off. My Shake Weight really does get arms toned, you can feel a good ache at the end of even the very first workout so long as you do it properly.
The Shake Weight™ retails at £29.95, does not require batteries and comes complete with a bonus workout DVD. Available from www.highstreettv.com and selected Tesco